Announcements
Notice of Annual MEETING
**** Bring a chair****
LAKEVIEW ESTATES HOME OWNERS ASSOCIATION
WHEN:             SATURDAY, MARCH 10, 2018 @ 1:00 P.M.
WHERE:           JEFF & SUE KASPAR'S  (IN THE BIG BARN)
2534 GOLDEN POND LANE (AT THE VERY END OF THE ROAD)
SPRING HILL TN, 37174
PURPOSE:        ANNUAL MEETING
AGENDA:         CALL MEETING TO ORDER
ACCEPT MINUTES
REPORT BY THE PRESIDENT OF THE PAST YEAR'S PROJECTS AND A LOOK FORWARD
FINANCIAL SUMMARY BY THE TREASURER
COMMITTEE REPORTS
ELECTION – IF YOU WOULD LIKE TO RUN FOR THE BOARD PLEASE EMAIL YOUR NAME, ADDRESS, PHONE NUMBER, EMAIL ADDRESS, PHOTO OF YOURSELF AND WRITE 1 TO 2 PARAGRAPHS AS TO WHY YOU WOULD LIKE TO SERVER ON THE BOARD. YOU WILL BE ADDED TO THE HOA WEBSITE FOR THE ELECTION. EMAIL TO CONTACT@OURLAKEVIEWESTATES.COM NO LATER THAN FEBRUARY 10, 2018. MUST BE IN GOOD STANDING AND CURRENT ON ALL DUES AND ASSESSMENTS TO SERVE ON BOARD OR TO VOTE.
PROXY VOTE – IF YOU CAN'T ATTENT THE ANNUAL MEETING YOU WILL BE ABLE TO DOWNLOAD A PROXY BALLOT FROM THE WEBSITE AFTER FEBRUATY 10TH, 2018 AND MAIL TO: LAKEVIEW HOA – PROXY, PO BOX 486, SPRING HILL TN 37174 TO ARRIVE NO LATER THAN FRIDAY MARCH 9, 2017
Click here to download and print a Proxy ballot
Click here to see the current Board members and those that are running for the board in 2018
OPEN FORUM – MEMBERS IN GOOD STANDING (must be current on HOA dues) ARE FREE TO SPEAK ON ANY MATTER OF INTEREST TO THE COMMUNITY. MEMBERS MUST OBSERVE RULES OF DECORUM AND NOT DISRUPT THE MEETING. EACH PERSON WILL HAVE THREE MINUTES TO SPEAK. IF THEY ARE IN THE MIDDLE OF A SENTENCE WHEN TIME IS CALLED, THEY MAY FINISH THEIR THOUGHT BEFORE SITTING DOWN. THE TIME GUIDELINES ENSURE THAT OTHERS WILL HAVE AN OPPORTUNITY TO SPEAK.
ADJURN MEETING
 _______________________________
The Dam has been repaired.

We'd like to thank the following neighbors for their generous Donations above and beyond the special assessment:
To go towards the dam repair:
Anonymous  $300
Bob Heidrich $300
Lew & Kathy Decker $100
To go towards landscaping:
Peggy Roberts $256.11 for all Flowers and treatments for Front Entrance for 2015
Kenny Hay $100 Landscaping donation
Jim & Barb Cochran $100 Landscaping donation
Richard & Maria Cline $100 Landscaping donation
Lawrence Armstead $50 Landscaping donation
Jeremy & Maribeth Johnson $50 Landscaping donation
Julie & Wayne Webster $50 Landscaping donation
Peter Logan  $50 Landscaping donation
The Final Plat for the Lake Common Area has been recorded at the Maury County Register of Deeds and a copy can be seen by clicking the link below:

Click here to download a compressed zip file of the Plat Map
Click Here to see a PDF of the Plat map – click here
_______________________________
Our neighborhood is using a private online network called Nextdoor Lakeview Estates, and we think you'll benefit from joining us. On our Nextdoor site, neighbors share community events, recommendations, items for sale/free, crime/safety concerns, ideas about how to make our neighborhood better. Please join us to build a better neighborhood! It will ask for your phone number or credit card but that is only to verify that your billing address in in Lakeview Estates.. Nothing will be charged.
Click Here
New Lake Sign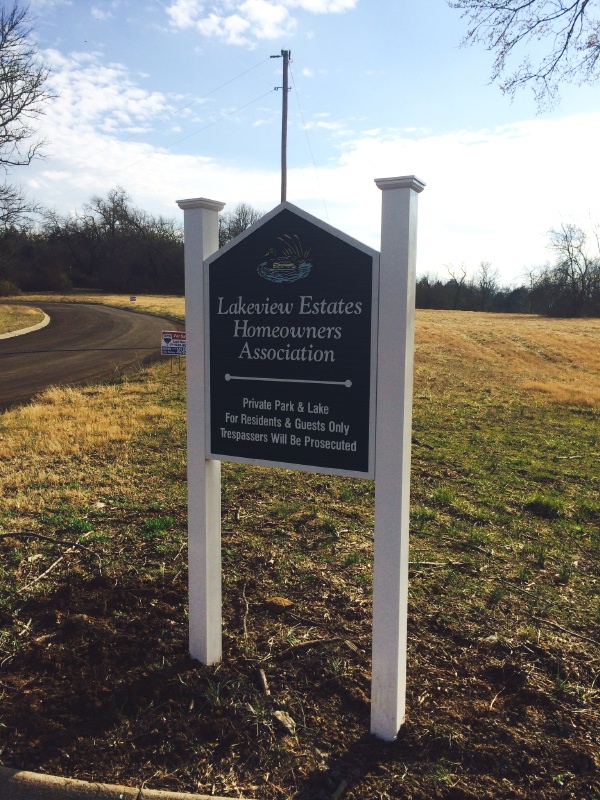 Thank you Jeff Kaspar & Kenny Hay for installing it!